The Freakiest Halloween Special Everrrr…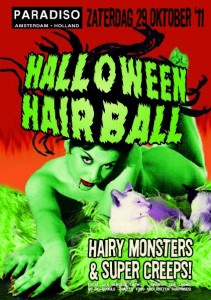 Het spookt in Paradiso op de jaarlijkse Halloween verkleed-extravaganza.
Grote Zaal: Amsterdam BeatClub
The Freakiest Halloween Special Everrrr…
live: The Apemen (speedsurf from Planet Ape!)

d/vj-duo The Scary-Tonics & guest deejays!
Horrific Burlesque Performers:
Cerise Noir
Mme BlingBling
Miss Whips
Scary Sideshows by:
Olifanttakeover
Charles the Wizard
Ir.Vendermummy
Lotsa Sick Burlesk Shows
Horrific Side Shows
Go-Go-Ghouls
Smelly Food and Rotten Surprises!
Prices for the Best Dressed!!
Kleine zaal:
DJ DUO: "Grumpy Old Men" – Alle 13 Dood!
Zombie disco & graveyard grooves
SPECIAL GUEST: Alec Smart
Kelder: The Mini-Bus
Hallowe'en: The bad trip! Tribute to Ken Kesey
Old hippy trippy trance acid classics
Gino, Misja, & Rubzman (Vision Impossible)
Alleen entree met Halloween kostuum!
Geen kostuum = geen entree!!!
aanvang: 23.00 uur
entree: 16,50 (incl. daglidm.)
Paradiso
Weteringschans 6-8 – Amsterdam