GOLDEN GNOME – THE MUSICAL – AWARDS
GOLDEN GNOME – THE MUSICAL – AWARDS
There's no business like show business and the Golden Gnome (Gouden Kabouter) Awards are like no show you've ever seen.
Internationally recognised as the unnofficial Oscars for the dance scene, the Golden Gnomes showcase the saints and sinners who make or break our nightlife. Alongside glittering awards for Favourite International DJs, Festivals & Live Acts, the Golden Gnomes also spotlight the downside to clubbing, with prizes being awarded for Dirtiest WCs, Most Unfriendly Doorstaff and Cock-Up of the Year.
Their satirical approach to exposing the best and worst aspects of clublife has earned the Gnomes a reputation as an annual date to remember. The creme de la creme of partyland flocks to Amsterdam's pop-temple Paradiso for a night of entertainment, networking & sheer unadulterated fun. It's a question of see and be seen, but be prepared to let someone take the mickey.
With past winners including international stars such as Riccardo Villalobos, Daft Punk, Armin van Buuren, Laurent Garnier & Underworld, expectations are high, even though everybody knows that the Awards are an affectionate tongue-in-cheek tribute to the dance scene. Richie Hawtin recieved the award in 2010 for Best International DJ and was slightly disappointed because he had hoped to win a prize for Worst Haircut. Isis – the First Lady of Dutch dance has been chosen as Most Sexy DJ for several years and when fashion guru Bas Kosters won Best Dressed DJ, he treated us to a striptease. David Guetta won the award for Favourite DJ in 2001 and was shocked to find the whole audience in Oktober Bierfest mode, complete with lederhozen, schlagermusic and bratwurst.
The element of surprise is an important ingredient in the Awards. The audience are treated to unexpected performances, guest appearances and hilarious impromptu situations that arise from the organised chaos on and off stage.
With 'Musicals' as this year's central theme, expect a spectacular(ly bad) all singin', all dancin' night starting off with the Broadway Red Carpet interviews by Dooske & Pieter, scintillating visuals by the Three Vision Impossible Musketeers, musical direction by Jack 'Backstage' Undercover and all-round entertainment from Master of Ceremonies MC Buttslammer. This year for the first time, the Golden Gnome Awards features the D-DIVA Awards; the Dutch Drag Industry Variety Awards. Nominees in the categories Rising Star, Entertainer of the Year and Biggest Bitch will be able to compete in what may potentially be the biggest on-stage  bitch-fight of all times.
On-line voting commences March 1st and a heavily fought battle between parties & festivals, clubs & cafés, devils & divas will rage for two weeks until the deadline at midnight on March 14th. The inevitable attempts to defraud the system will be eliminated by the Tel-Kabouter jurymembers, but if you're willing to risk it, the organisation is open to lucrative offers of bribery & corruption.
Roll up, roll up!
It's time to put on make-up, it's time to fight the frauds,
it's time to get things started for the Golden Gnome Awards!!!!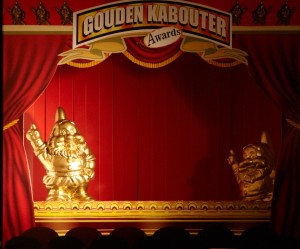 GOUDEN KABOUTER
– THE MUSICAL –AWARDS

Monday 19 March 2012

Paradiso

Weteringschans 6-8 Amsterdam

Open 8pm til very, very late

Presale: 10,-

Tickets on the door: 15,-